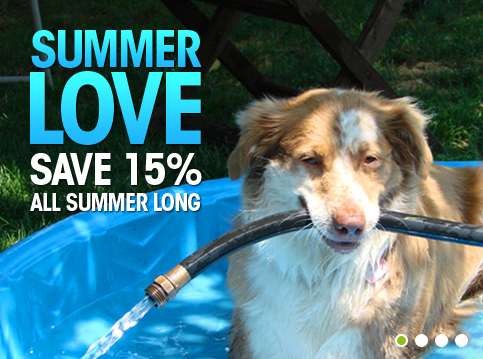 Create a library of pre-approved local market creative and empower store admin to feature tiles that support events and promotions specific to their store
Our Local Heroes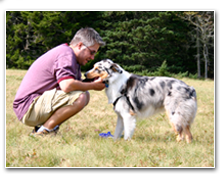 Trainer Frank G. and works with his seven-year-old Australian Shepherd, Logan.
Visit Frank's bio or find him under the Training Experts below, where you can follow his pet blog, view photos and videos, or find out about Frank's upcoming training classes.

Create a photo album of local heroes and [optionally] feature a different person with each page load
Grooming

Training

Adoption

Boarding

Healthcare
Create a library of approved badges for store services and empower store admin to feature those most important for their client base

Wilson F.
Associate, Small Animal Care
Email Wilson

Sarah T.
Groomer, Dogs and Cats
Email Sarah

Ralph J.
Associate, Reptile Care
Email Ralph

Jessica L.
Director, Animal Healthcare
Email Jessica

Howard W.
Training, Dogs
Email Howard

Rebecca S.
Associate, Dog Healthcare
Email Rebecca
View All in Springfield
In Store Experts
---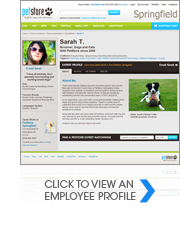 Showcase the employee experts who work in each local store with thumbnail and individual searchable profile page
Group employees by area of expertise for easy searching and browsing by customers
Provide links to contact staff experts via threaded support ticket system with performance tracking and full audit capabilities
Embed time sensitive electronic quotes for products which credit store and associates when purchased
Integrates with Active Directory or other store level HRIS system to manage new arrivals and departures automatically

Store Profile
---
Feature locally relevant, easily spiderable content about each local store
Includes individual store specific information -- Bio, Photo Albums and Video Albums as well as links to Blogs and Event Calendar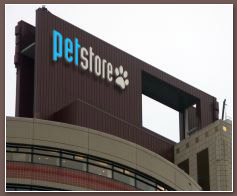 PetStore, Springfield
About Your Local Pet

Store
Our Springfield location opened in 1996, and in the 15 years we have been serving this area, we have grown into one of PetStore's premier locations. We focus on quality, knowledgable and friendly service and on giving you and your pets the best possible life together.
Our staff of trained professionals can assist you in all aspects of pet ownership, from grooming to healthcare and everything in between.
Stop by our store seven days a week, or if you have a question, reach out to one of our store experts and we'll be in contact with you soon.
As always, pets are always welcome!